Testimonials & Comments
What Do Our Learners Say About Thai Style?
Read more learner reviews on Google here
Positive feedback is great to hear but constructive feedback helps us to improve our services. We listen to all student and teacher feedback and ensure we learn from every experience. We have changed, added and improved many aspects of Thai Style with help from many individuals. We are always improving and developing our services as all good businesses should.
We regularly add new comments, suggestions and feedback openly here for all to read. We have nothing to hide and would love to hear from you > Leave us Feedback
Comments from learners who have invested time to understand and learn about our materials, teachers and support systems.
Here is what our students say about their learning experience;
Thai Teacher Reviews;
"Kruu Pat is an excellent teacher. She has really helped me with developing my (admittedly still rudimentary) Thai and has motivated me throughout the process. She is fun, smart, has kept me engaged and has been excellent at making sure my tonal skills are accurate. I strongly recommend her skills as a Thai teacher" Scott, Australia, 2018
"I meet with Gift twice a week. her english is excellent and she is very knowledgeable on our course material. For each chapter we spean 1 lesson on the material. I then practise and do the homework in it's entirety Repitition works for me. I also write down questions I have for her.
At the beggining, my biggest problem was pronunciation. I have improved quite a bit in that area. I am working on chapter 9 on stage 1 speak thai course and want to start brwising stage 2 in my spare time. I am going to Thailand in November on holiday. My goal is to complete Stage 2 Speak Thai course by then" Sal, NY, USA, 2018
"She is an excellent teacher and has kept me motivated when learning to read and write – she is very excited that I'm going on to the next stage." Julia, Skype, 2018
"I would highly recommend working with Angela if you want to learn Thai. We have a weekly Skype lesson which she sets around times that suit me and is flexible if I need to change it for any reason. She sets a great pace according to how I am managing the materials and within 6 months I feel confident enough to use my new language skills on my next trip to Bangkok! She is brilliant at answering questions I have about Thai language and culture and will deviate willingly from the course materials if it suits me. She is extremely encouraging – couldn't imagine learning Thai with anyone else." Diana, Skype, 2018
"Kruu Sanya is really helpful and very encouraging. She is going at a pace that is suitable for me and for the first time in 10 years living in Bangkok I feel Like I am actually learning Thai after many failed attempts." Lynnie, Skype, 2018
"Khun Jariya has taken a very dedicated and professional approach to teach Thai language, with easy flow conversations during the class. Her teaching is really making a big difference in my undertsanding and speaking of Thai language. I appreciate her unwavering patience and flexibility to accommodate my unpredictable schedule due to regular work pressure. She is truly a great teacher and very nice person to know" Partha, Bangkok, 2018
"Nut is an extremely patient and helpful instructor. His knowledge of Thai and English are both outstanding. I particularly enjoy the cultural and social education that he incorporates in our language studies, as this helps me to better understand Thai people and their way of life. I am extremely happy with his work and the progress I am making under his guidance" Simon, Sydney, 2018
"First class teaching, very professional and friendly, she has real enthusiasm for teaching."  Callum, Phuket, 2018
"Kruu Lisa is a wonderful teacher. She takes the time to make sure I understand the material and has answers to all my questions" Arthur, Maryland, USA, 2018
"[Kruu Apple] is indeed a great teacher. She is a good communicator and has deep knowledge of the subject matter, in this case the Thai language and culture. She has been patient to listen to my questions and been a friendly advisor not only on the course content, but also on the Thai cultural norms and behaviour intended in Thai society.
I find Khun Jariya warm, accessible, enthusiastic and caring. She also has a good sense of humour." Partha, Bangkok, 2018
"She was wonderful! So patient and explained everything very clearly. I recommend her for stage 1 to everyone. I am learning for business and eventually to live in Thailand. She would explain cultural norms and etiquette at work or at home so I can understand the Thai people better. I really enjoyed my Thai lessons and I am sad that I have to get a new teacher for Stage 2 ^_^ 5 Stars, I learned so much!" Lynn, Texas, USA, 2018
"Our teacher is very friendly. She adapts the lessons so we can spend more time on what we really want to know and spends lots of time with us practicing talking to each other." Kathryn, Bangkok, 2018
"Excellent teaching skills, happy to revisit areas that I am not too strong in and Kruu Top is always professional and entertaining." Glen, Bangkok, 2018
"My teacher is very good at teaching the Thai language. She is always approachable and always answers any questions that I have. She is also very flexible with learning and she helps me to understand where and how I need to improve in learning the correct pronunciation and tones." Taweisha, Hat Yai, 2018
"Our teacher was very friendly and supportive. She was also funny and relaxed which was great as this was our first experience being tutored in a language so it was important we could relax and enjoy it! She talked us through the Stage and was patient with us as we learned and helped hugely with our pronunciation and understanding" Craig, Edinburgh, 2018
"Our teacher was excellent and we really enjoyed meeting her each week. She was extremely kind and helpful and made learning a lot of fun" Neil, Edinburgh, 2018
"Oil is a great teacher and helps me through everything. Im happy to have her as a teacher" Adam, Skype, 2018
"Kruu Bim is completely knowledgable and an excellent teacher. She has been covering conversation, grammar, vocabulary, and reading comprehension. I have learned much more in a short time than I expected. She mixes up her teaching methods to keep my level of engagement high. In addition, she has been teaching me about Thai culture, current events, and vernacular usage of language. I am a university professor who has been teaching for over 20 years, so I understand education pretty well. I really like the job she is doing. I expect to move to Thailand with my wife in two years and I expect I'll be at a pretty high level of proficiency by then, with Bim's help." Lawrence, Skype, 2017
"My teacher Ja was outstanding for the entire 10 Chapter Short Thai Course! In addition to the reading material Ja provided for each session, she sent me an audio version to help me practice the correct pronunciation. From week to week I looked forward to seeing Ja as she brings a truly delightful spirit along with knowledge of Thai culture. Five Stars ⭐️⭐️⭐️⭐️⭐️" Jon, CA, USA, 2017
"Nat is highly effective, knowledgeable and patient. He employs excellent use of real-life examples to lend context and understanding to lessons and moves at a pace that is realistic and achievable. I am extremely happy with him and his work. His English skills are outstanding and he is a highly effective communicator. He is a credit to your organisation." Simon, Sydney, 2017
"She is an experienced and responsible teacher and understands the difficulties that a new student has. She taught me about how the Locals Thai speaks and she nailed it. She is a very understanding teacher and accommodates me very well. As I have a very hectic schedule, she is never angry with me on cancelling my lessons at a late notice. She also waits patiently for me at my company and still hold the lesson to a full 2 hours, even the delay is from me. I would not choose anyone else other than Khun Ya for a Thai language teacher" Apollo, Rayong, 2017
"Kruu Bo has been an excellent teacher! She is very flexible and understanding with scheduling. She has a website with supplemental material which has been very useful." Carolyn, LA, USA, 2017
"I found Kruu Apple from Skype Techer List. I new exactly what kind of teacher I wanted to find. I can say that I am very happy that kruu Apple teaches me Thai language because I feel that she suits me very well. She is really professional, patient, friendly and able to explain everything very clearly . I see that she enjoys teaching Thai, therefore, I would highly recommend her as Thai teacher via Skype" Hanna, Skype, 2017
"My teacher is very good. She has helped me learn Thai language and has made it very interesting" Mark, California, 2017
"Kruu Owl is very accommodating, flexible and helpful. It's a joy to learn with her" Siri, Pranburi, 2017
"Angela has been a great teacher! When it comes to learning the material she is very friendly and patient, and I am getting through the chapters much quicker than I thought I would and I think that is down to Angela's teaching style. My lessons with Angela are over Skype every week, and I look forward to every lesson" Jo, Skype, 2017
"Ommy is a great teacher. She is really helpful and knowledgable and I enjoy taking lessons with her" Adam, Edinburgh, 2017
"Please tell Ommy I'm very happy with her as a teacher, she is very good. She takes time to explain in different ways. Sometimes I don't have time to prepare or do homework but she helps me to go through it and learn from it anyway." Jonas, Skype, 2017
"Kruu Bo cares a lot about her students learning not just about the language, but about the culture as well. I've been her student for close to a year now and have enjoyed every lesson! She's super funny, knowledgeable, and patient." Mai, California, 2017
"Va is always punctual if not early for class which I like. She is very patience and has a warm personality. Va has excellent pronunciation skill which benefits me a lot in my learning" Hwee, Bangkok, 2017
"My teacher is very good, se is always flexible and quick to reply to any communications and her english is perfect. I really appreciate how she can understand exactly what i need adapt her teaching style to me. She is also very good at explaining things, very patient and makes me feel comfortable studying with her" Giuseppe, Skype, 2017
"Pear has been an outstanding teacher. She is able to explain the items covered in the class clearly and she has obviously prepared for our classes, as she is able to follow the book without referring to it" Charles, Khon Kaen, 2017
"Saree is a great teacher for two reasons. One is her actual teaching skill; she understands Thai and English very well and is able to simplify a lot of difficult concepts. She allows me to go at the speed best for my learning capability and answers all questions. The second reason is her personality. She is humble, easy to talk to, and fun. This makes learning a lot easier and more enjoyable" Kevin, Bangkok, 2017
"Kru Pari and I have been learning Thai for the last 2 years, and we are progressing well. She is professional and flexible (the second quality is quite appreciated especially since I have been traveling for work often and am unable to keep to weekly class sometimes." Noel, Bangkok 2017
"I like how Bo personalizes her teaching process with me" Patrick, Skype, 2017
"She is a very good and flexible on her teaching style to adapt to my learning curve. Pointed out my wrong pronunciation and guide me to get it right even if she have to repeat it several times." Julia, Chonburi, 2017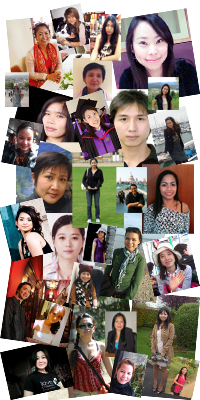 "Bu is great! She teaches me things outside the study materials to expand upon certain topics or explore areas of my interest." Peter, Chicago, 2016
"Very good teacher, takes time to teach at a pace that is appropriate for us and is teaching us about Thailand, the country, the customs and the people as well as the language" Erik, Rayong, 2016
"Kruu Oh is always on time for our lessons and puts in extra time checking my homework outside of lesson-time as well as coming prepared with extra material related to my particular interests regarding the Thai language. Her lessons are very thorough, and while sticking faithfully to the teaching programme, she has also been happy to tailor to my interest in learning some of the language used in Thai Dhamma desanas. She is very well-mannered and gently-spoken. She drives to my house at no extra cost (her husband even gave me a lift home when I went to her house). She is patient in correcting and tolerating my many mistakes and clumsiness in the language. She inspires interest, effort and enthusiasm.  In short, as I believe has been said in another review, she is a credit to Thai-Style." Cormac, Belfast, 2016
"Pat is an amazing teacher and i am progressing very well, remembering the previous lessons thanks to her perfect review technique during every lesson. She is very professional and pleasant person. I highly recommend her" Bruno, San Diego, 2016
"She has the right attitude and professional in dealing with me as a student; tells me directly if I mispronounced the words. She is patient in dealing with Thai pronunciation problems several times. She also encouraged me to learn and practice more." Julia, Chonburi, 2016
"My teacher Dee has been fantastic. She has made it easy and enjoyable to go through the lessons and I always look forward to learning more" John, London, 2016
"We like Fah very much. She understands our needs for learning Thai as retired Phuket residents and has given us as many tools to learn the language with day to day interactions in mind. We value her flexibility to customize and prioritize our learning. She is also kind. When we have trouble pronouncing words she is patient with us." Laura, Phuket, 2016
"Khun Nicha is very patient, she explains all my queries. She is also very accommodating to my busy schedule" Soo, Singapore, 2016
"I have been learning with Kruu Bim since January 2016. Kruu Bim does an excellent job of being able to adapt to my learning style and help me overcome many hurdles I have encountered with the Thai language. She is very knowledgeable in English, very patient, and always finds time to be available (on average 4x week). She actually cares about me as a student and as a person, going above and beyond what I have ever expected from a teacher. The things that have helped me the most, is how she can take a difficult topic and compare it to a similar topic in the English language……. The last comment I want to make is how well she utilizes technology. Even though we are across the world from each other, the way we use interactive whiteboards together makes me feel like we are sitting next to each other. I could not be more please with my progress at this point. Thank you for providing excellent written materials and for recommending her as my teacher" John, Skype, 2016
"Khun Ommy is very friendly and organised. She has excellent English and I find her explanations of the difference between Thai and English grammar very easy to understand. I have been very happy with her teaching of Speak Thai Stage 1 and look forward to continuing to learn with her" Lisa, Edinburgh, 2016
"I have been working with Kruu Bim and find that she is very good and would like to continue on with Speaking Stage 2 with her. She is very patient and is very flexible in terms of lessons" Jason, Skype, 2016
"Jin was a wonderful teacher to work with. She was flexible and worked with me the way I liked and was very encouraging. She also provided some resources that were helpful. She was also very personable and friendly and so it was easy for me to practice my spoken Thai with her. I would definitely recommend her!" Mark, Nakhon Pahnom, 2016
"Sawadee krub Jeab, I am happy with my teacher Bo. Bo has helped me find my way to learn Thai. She is also supportive in my efforts to move to and live in Thailand. She seems to have that perfect nature of helping others to achieve their goals. Another special thing about her is that she is both Thai and American so that she brings both halfs to the teaching experience. Thanks" Pat, LA, California, 2016
"My teacher made it so easy for me to learn the Thai language.and as good understood of the English language so it was made clear to me" Malcolm, UK, 2016
"Very sincere and helpful. Nice classes every time I learn Thai with Elle." Louis, Hong Kong, 2016
"Kru Oil continues to be an absolutely amazing teacher, endlessly inventive in coming up with novel ways to improve all aspects of my Thai language abilities. She is extremely generous with her time and astonishingly patient. Without doubt, she is the best Thai teacher I have ever had, and I look forward to my lessons with her every week." Tim, Guildford 2016
"Pee Ang, Is a great teacher. Very easy to follow, and has a great understanding of the material, and many funny stories to help remember different words for the right situation" Kevin, Macclesfield UK, 2016
"I can highly recommend Kruu Bim to any Skype students (or other students) as she is very patient and very smart. Kruu Bim Geng Maak shrub. Her knowledge of Thai Language and also English language is very helpful in reaching my learning goals" Stuart, Skype, 2016
"Have been learning my Thai with Kruu Amy for the past year and a half and i feel very comfortable. She has been a very good listener and answered all my problems with the Thai language. Amy has put the effort in to teach me how to read fluently and understand what letters belong to which tone group and how they sound like from the mouth. I am happy to carry on learning with Amy and extend my knowledge of the Thai language" Ragoo, Birmingham, 2016
"She has been very helpful even though teaching remotely must not be easy." Yoshihiro, Skype, 2016
"Annie is really good very helpful and patient. I look forward to our session every week and we have fun learning" David, Liverpool, 2016
"Joy is a fantastic teacher. Really helpful and patient. She tailors the course and answers any questions you have about the language" Charlotte, Norwich, 2016
"Oil- Excellent vibrant personality and makes you feel comfortable right away. Very passionate about teaching Thai. Parry- Excellent, and very natural at teaching. She is thorough and makes sure I know what I am doing before we go to the next chapter. She is serious yet comfortable, and she doesnt just want to rush through the material. In some ways, I think having 2 teachers is beneficial because they are both different and different teaching styles so it adds to my learning" Lizzy, Skype, 2015
"Great teacher in every way! I've had a few months off as I've been abroad, but am not back and ready to crack on with stage 3. Looking forward to learning more from Issy" Alex, London, November 2015
"Kru Oil is simply the best Thai teacher I have ever had, far surpassing those I have previously encountered (who were excellent in their own ways) at both SOAS and privately. Kru Oil teaches from the coursebooks extremely well and with great patience and humour. In addition she is endlessly inventive in devising additional ways of helping me to improve my Thai, which are proving stunningly effective. I look forward immensely to my lessons each week, and thanks to Kru Oil I feel continually motivated to do my best at all times. In short, an amazing teacher!" Tim, Guildford, 2015
"Khun Im: she is good experienced teacher (both English & Thai fluency) and keeping me motivated all the times. I feel confident to grasp the basic concept of Thai grammar & vocabulary pattern next few weeks. Looking forward to continue with her in person. Khun Aom, she is also good friendly teacher (Thai & moderate English) with additional accessibility (sign language) and her teaching helps me to achieve Thai Speak stage 1″ Tony, Phuket, 2015
"Mod has been an excellent teacher and I would definitely recommend her to others. She is extremely patient, makes learning fun and has given me more confidence as I'm not a 'natural'. Our 1-2-1 lessons have been a pleasure" Alvin, London, 2015
"I had my trial lesson yesterday and was tremendously impressed with Kru Oil as a Thai teacher.  I have previously studied with very experienced teachers, both at SOAS and privately in London.  I have to say, however, that I found Kru Oil far exceeded these teachers in her teaching abilities.  She is clearly an exceptionally gifted teacher and showed tremendous patience with my faltering attempts at Thai and explained everything clearly and effectively.  She managed to tailor the Thai Style course material precisely to my specific requirements, and came up with techniques I have not encountered before to assist me in strengthening my weak areas.  I count myself very fortunate indeed that Kru Oil's joining the Thai Style network of Thai teachers coincided with my search for a Guildford-based Thai teacher.  I now feel extremely motivated to study hard and improve my Thai and look forward very much indeed to my lessons with Kru Oil going forward" Tim, Guildford, 2015
"She is excellent, i am now able to construct sentences in thai in my head, and my understanding is definitely growing all the time thanks to her. She is thorough and good at testing me" Gregg, London, 2015
"My teacher is khun Aom and she is very good & fun in teaching with my slow learning pace via Skype. In despite her teaching methods are compromised due to my special needs (born-deaf – using sign language), she is incredibly making me more enjoyable & good ability to grasp the very basic written conversation from the very early stage 1 of the Speak Thai course. This is something I feel more confident to break the communication barrier with Thai friends for the first time. Now I am looking forward to continue this course with her" Tony, Skype, 2015
"Excellent teacher [Tay], makes the lessons fun and enjoyable (Would recommend highly. Also adds in extra vocabulary to embellish sentences when necessary and mentions interesting culture facts about the local area and nearby surroundings" Benjamin, Ubon Ratchathani, 2015
"Kiksy is an excellent teacher. She is patient and encourages learning. A very good aspect of her teaching is that she teaches the actual thai way of how things are spoken in real situations. This information is priceless and cannot be gained from books or Apps. I am very happy with my teacher" Steven, Skype, 2015
"I could not imagine a better teacher for me. She is patient, funny, knowledgeable and is able and willing to let discussion wander and answer all my 'why' questions"

Daniel, Saraburi, 2015
"Loogti is really a fantastic teacher, she really understands problem areas , concentrates on them. I know feel I am really making progress towards learning to speak Thai" James, Bangkok, 2015
"Brilliant. My Thai has improved tremendously. She obviously spends a lot of her own time preparing written answers for me when i ask specific questions at the end of our lessons. Always happy, excellent teaching method and easy to understand. I return to Thailand in September and will feel a lot more confident in using the language" Andrew, Wiltshire, 2015
"I feel like I've hit the jackpot with my Thai teacher. Not only is he extremely knowledgeable and professional he is also extremely patient and kind. Kruu Tay caters his lessons to my learning style. We're now taking three lessons a week and I'm absolutely loving learning Thai with Kruu Tay" Tyler, Skype, 2015
"Very good. Speaks fluent english which helps greatly. Sh has good under standing of formal and informal Thail. Friendly personality and I am very happy with the method she uses to teach me" Michael, Chonburi, 2015
"Apple is great teacher, she is patient and doesn't mind explaining things in detail. The lessons are interesting, she gives good direction and feedback" William, Bangkok, 2015
"Amy is a brilliant teacher, very patient, encouraging and she makes the lessons fun. I have finished the first course and I am really looking forward to starting the second with her. Amy Korb Koon Maak Maak Krub" Allan, Birmingham, 2015
"Apple is a good teacher..am impressed! Flexible in timings especially for expats here in Bangkok" Biju, Bangkok, 2015
"My teacher [Minth Fah] is amazing! She is very professional and very good at teaching the Thai language. She is flexible and helps me with all of my questions about using Thai in day to day life, as well as doing the lesson. I recommended her, and Thai Style, to my friends also" Amy, Bangkok, 2015
"What a wonderful teacher Amy is. Easy going personality and she utilizes her learning materials very well. I have been studying with her for 1 year now and i can comfortably hold a Thai conversation, with a Thai, on many subject matters. I have completed stage 1,2 and 3 and plan on further increasing my Thai knowledge with her tuition. I am surprised at how easy she made, 'what is supposed to be a difficult language to learn.' Alongside the language, Amy has also given me a insight to the culture values of Thailand and recommendations for my next year long visit!!! La-Gone Krap" R B, Birmingham, 2015
"P'Mai is doing a fantastic job. JUst amazing and I am very happy with her job., Every week we used to do class in London for 2 hours. Now I am 1 month in Thailand and we do Skype sessions. After that we will continue with formal classes. She is patient, organized, dilligent, punctual and energetic. All I can ask!" Oriol, London, 2015
"I have been learning Thai with Angela over Skype and I feel extremely lucky that she was assigned to me as a teacher. She is an excellent teacher – very patient and encouraging, and I would definitely advise anyone who was thinking of learning Thai to work with her. She has a lot of experience teaching Thai, and it shows! Thanks again Angela for being a fantastic teacher."

Tara, Skype, 2015
"Loogti is great, she really understands on what you need to concentrate and go back to sections with which you are having difficulty" James, Bangkok, 2015
"Kruu Iris is very good, experienced and easy to get on. I have learned a lot from her. I wouldn't want to swap her for another teacher" Joshua, Bangkok, 2015
"Aum has been extremely professional and a great teacher. I feel like i have learnt a lot in a short space of time. She is very accommodating and flexible with the timing of lessons. Very pleased" Gregg, London, 2015
"My Thai-Style teacher is very helpful and knowledgeable in both Thai and English. he has helped me overcome many pronunciation obstacles and sentence structures."
"Pasha is an outstanding teacher, she has made me feel very comfertable with learning Thai. She has adapted my lessons to suit my needs so I can get the most out of them and is always very positive and encouraging in her comments.
She has renewed my disire to learn Thai as I had tried several times before without much luck. I would highly recomend Kruu Pasha to anyone wishing to learn Thai at whatever level they are starting at" Terry, London, 2015
"Khun Parry is an excellent teacher, professional, punctual and easy to understand. I am progressing well under her instruction" Noel, Bangkok, 2015
"Nok is an excellent teacher, I really enjoy our lessons. Nok delivers really structured lessons, she has a lot of patience and makes learning fun. I have learnt beginners Thai at the school of oriental and African studies. I prefer thai style because of the one on one tuition as opposed to the classroom style of learning. The teachers available through thai style are a very high standard" Gavin, London, 2015
"Great experience and well knowledge teacher" Anthony, Bangkok, 2015
"I'm very satisfied from the teaching from Kruu Anne. I want continue learning thai language with her!" Assen, Germany, 2015
"I am enjoying learning Thai with my teacher Khun Yui, she is always well prepared for the lessons and makes the lessons fun and interesting. She is approachable and friendly. She explains the Thai language and culture well. It is a pleasure to study with her" Stephen, UK, 2014
"Nok is a very good teacher, she is very patient and has very effective style of teaching that makes me understand how thai words sound and how they are pronounced" Gavin, London, 2014
"P'Gift is great- very helpful and the pace of the lessons is good. I'm learning a lot from her!" Jade, Bangkok, 2014
"My teacher, Kan , has done a great job teaching us. She is fun to learn with and has a good grasp on Thai language as well as English. She is easy to understand and does a good job explaining material. The classroom in her home is a great learning environment. I especially appreciate when she prepares games and activities for extra practice. It makes the lesson fun and gives us the much needed practice to really help vocabulary and rules to become more ingrained in our mind. I really enjoy learning with Kan!" Angela, Udon Thani, 2014
"My teacher is knowledgeable and experienced. Lessons are well structured and aimed at the level of the learner"

Stuart, Bournemouth, 2014
"Khun Woralan (Kaew) is a brilliant teacher. Patient, interesting, clever. Has helped me get to grips with lots of things I've struggled with for years. My classes are one of the highlights of my week!" Max, London, 2014
"I learned with Kruu Louis for almost 2 months on a weekly basis. He is a very dedicated teacher, always on time. He helped me a lot with to get more vocabulary and improve my pronunciation" Vianney, Bangkok, 2014
"My Teacher is Yui. She lives in Worcester. I have lessons one to one with her every Saturday. She is an Excellent teacher and I am very happy to study with her" John, Worcester, 2014
"Mod is patient, enthusiastic and her english is probably better than mine. She's a great motivating factor and I'm very pleased with her as my teacher. She also explains bits and pieces of thai culture" Wouter, Belgium, 2014
"Loogti has been great: very patient but also very structured in her methods. Each class has been no-stress, and not requiring much work outside of class which is essential as I work long hours already. Yet I am still managing to progress and feel really pleased with my progress. High marks for Loogti!" Pam, London, 2014
"I can honestly say that Kruu Sao has far exceeded my expectations. She is a natural teacher who makes learning fun and interesting. My weekly lessons are something that I look forward to. She is very knowledgeable on all aspects of Thai language and culture, and is always ready to answer any questions that I may have. She has a superb command of the English language which really goes a long way towards me getting the maximum benefit from my lessons. I am very happy with my progress so far, and that can be attributed to her teaching style" Oliver, Cambridgeshire, 2014
"Mod has been my teacher over the last couple of months. She has been great. Flexible due to my traveling times, fun, patient and each lesson always explained with much knowledge of the thai culture" Joong, Australia, 2014
"Khun Fawn is an excellent guide through my learning of the Thai language, full of insight and helpful tips that bring the language alive. Her manner is personable, polite, and instills confidence"

Peter, Pattaya, 2014
"Very polite and patient, good knowledge of English idiomatic phrases and able to specify which parts of the material are formal vs. informal" Devon, Bangkok, 2014
"I would just to comment on how wonderful Angela is both as a teacher and as a person in general. Angela is so patient with me and is always available if I need to ask a question. Angela's teaching methods work, I have learnt a lot in a short space of time. Angela always makes sure I have eaten (the cooking is out of this world). I would highly recommend Angela to anyone wishing to learn Thai. I am truly blessed to have found such a great teacher and a great friend who I will always keep in touch with" Paula, Chester, 2014
"Khun Fawn is an excellent Kruu, I am very happy with her. She is patient and takes the time to ensure words are spoken correctly, with the right tone, etc. She is a pleasure to have in my Baan." Peter, Pattaya, 2014
"Very good teacher. Explains everything well, answers my questions, has a lot of patience, hahaha! Explains things and encourages me to speak Thai wherever possible. Feel my Thai is improving steadily as a result" Shaun, Aldershot, 2014
"Jamie is extremely helpful and patient, she also is always willing to be flexible to my times which is great as my work does not allow me have a "standard" learning scedhule so my learning is not affected" Chris, Chonburi, 2014
"Kruu Run aod ton lae roo pa sa Thai geng mak. Kao teaching style dee mak tum hai chan kao jai ngai. Overall chan mee kwam sook tee dai rien pa sa Thai gub Kruu Run ka. Chan geng, chai mai? Kop koon Kruu Run ka" Jen, London, 2013
"Khun Ded is a great teacher with an abundance of patience. He is willing to come from a long distance to accommodate me. He is very dedicated to his job and demonstrates great character" John, Pattaya, 2013
"Pee Oi, Is a very good teacher, we just completed stage 1 of speaking. She is very helpful in getting the tone and sounds correct as I speak a little Thai already" James, Sukhothai, 2013
"My teacher is fantastic.. We have a good rapport and she is very good at teaching.. She teaches at the speed I want to go at and never puts any pressure on to do otherwise.. I am thoroughly enjoying my learning experience and hope to continue long into the future when I eventually retire and hopefully go and teach in Thailand… Many thanks" Phil, Wigan, 2013
"Kruu Pearl is an excellent teacher with really good English skills so it is a pleasure learning Thai with her. She is also very patient with me whenever I am struggling with anything. I have learnt a lot since I started the course and can now even read a bit of Thai thanks to her. Highly recommended" Ian, Bangkok, 2013
"I think my teacher is excellent, she is patient and perseveres with me, and has a very sympathetic manner teaching. I am very satisfied with her"

Paul, Westminster, 2013
"Mook is an excellent teacher. It is clear that she is very experienced in teaching languages and is always able to answer my questions about sentence structure and grammar. I really enjoy learning Thai with Mook!" Nicola, London, 2013
"Through the Thai Style website, I had the privilege/pleasure to have Nan as my tutor in England until I left for Thailand. Nan is excellent. She is happy to work at your pace, is very patient and true to her origin (Land of Smiles), she smiles a lot. Aside from the language education, Nan (and her husband) have a wealth of knowledge about Thailand which they are happy to share – I had many questions" Sean, Derby, 2013
"Koon Tai is punctual, friendly, conscientious, flexible" Duncan, Soho, 2013
"I have nothing but praise for my teacher; P'Mee is patient and versatile in his teaching methods. I am really enjoying our lessons on Skype and have several a week" Justin, Leeds, 2013
"My teacher is Jeab. She wrote the course, which, in my opinion, makes her some kind of a genius. I'm trying not to be over the top in my praise, but she is a brilliant teacher and I consider myself very lucky to have found her. The course, her teaching style and her delightful personality make her the perfect teacher for me" Keith, Brighton, 2013
"I have been learning with Norng from Andover and she has been awesome! She is a great teacher and we get along well. She also been very accommodating with my unpredictable work schedule" James, Andover, 2013
"I would like to say my teacher Apple is absolutely great friendly ,helpful her teaching methods are very good ,you could not ask for a more helpful and professional teacher" Chris, Preston, 2013
"I am really happy with my Thai teacher Yam, the way she teaches me is great I have dyslectic so I do find things challenging but she has adapted to that and I am learning quicker and remembering a lot more each time I wish I had done this sooner , very impressed with the course and how I feel that I am succeeding and achieving learning skills to move forward in this course, so very happy thank you Yam" Jamie, Ipswich, 2013
"Tata is a really nice teacher. Knows how to make students learn in a fun way and also motivates them to ask her any kind of question and work harder" Rupali, Bangkok, 2013
"Aww is a very patient teacher with a lot of energy and is very enthusiastic.She gives you homework every week which is beneficial and helps you learn far quicker" Steven, Purfleet, 2013
"Jiab is amazingly patient and very understanding of this farang's level of ability! She is an excellent teacher and explains things extremely well.She is always more than willing to answer questions about the language and the country. She is a delight to spend time with. I am looking forward to stage 2 both with trepidation and enthusiasm!" Bob, Brighton, 2013
"Mook was very professional and friendly, and happy to answer any questions about language use and thai culture; or to chat about Thailand in general. She typed up some extra material further to the course for me to take to Thailand and is happy to help with any individual things you would like to learn outside of the course materials" Hannah, Glasgow, 2013
"I feel very comfortable learning with Run. She's very easy to approach and she's very knowledgable of what's she's teaching. She can answer all the questions I popped up with. Overall I'm very satisfied with her and what I'm learning"

Jen, London, 2013
"Jiab is so patient! She understands the problems that we farangs have with pronunciations, like the "dt" "ng" sounds and, of course, the infamous 5 tones. She seems happy to gently repeat sounds/ words as often as necessary, but without pedantically overdoing it. She regularly praises and encourages. She waits patiently for me to try and answer/ ask a question and, even though sometimes, it takes for ever for me to put together a sentence! I think Jiab is getting me to a stage when I hope I will have some confidence to start a conversation with a stranger in Thailand, especially outside of the tourist areas. She is a fantastic teacher!" Bob, Brighton, 2013
"Kruu aww is a patient teacher and has made my experience of learning a pleasure I never liked school all those years ago and was not sure about learning But i have found this has been made as easy as possible for me and with a smile too i would greatly recommend Aww who makes the whole learning experience fun and i am delighted with my progress ……A pat on the back ……..and keep them stars coming. Khorb kun krub aww" John, London, 2013
"Joy has been my teacher for the past 5 months while I have been in between Thailand and the UK. Its been great to study with someone so friendly and fun, whereas I have lost concentration or got bored in the past with tutors or class, Joy has made it enjoyable to learn for me. still struggling with the tones but she is persistent and helpful when i may feel slightly embaressed!!!! All in all a great teacher and lots of energy and enthusiasm to teach about her language and culture!" Jack, Islington, 2012
"My Teacher "Mook" is an Excellent Teacher. Every Lesson is Planned and organised very well. She is very Enthusiastic about teaching the Thai Language and she is very patient with me too, if i need more time to absorb the material or lesson she will pick up on this and be very helpful and understanding…. She is excellent at explaining things and teaching me the correct pronunciation when i speak. I could not ask for a better Teacher, she is perfect for helping me achieve my goal of learning as much as i can. I am very Happy with this Teacher" Paul, Glasgow, 2012
"My teacher Mod is great. Very friendly and has no problem going at my pace or skipping a few pages if I am already comfortable with the content. She is good at encouraging me without being patronizing and I always look forward to our lessons. I feel she puts extra effort into these classes and it really reflects on my learning" Hazel, York, 2012
"Hi, I am really enjoying my lessons, Angela is very good at balancing a relaxed learning experience with encouragement and coaching. I also enjoy Angela's ability to elaborate on subjects on request. I very much enjoy the opportunity to develop my understanding of Thai culture in addition to developing my language. Regards, Pete." Chester, 2012
"Khruu Nong is a very pleasant person, easy to chat to in english and very organsised in her teaching. Incidentally, her (English) husband Mark is very welcoming and they have a young daughter. I hope that Koon Nong continues to be available for lessons as I feel that my comprehension is improving with her help, and in particular my struggle with Thai Tones" Stephen, Andover, 2012
"I've been learning Thai with Kloy for three months now – where does the time go! The lessons are very enjoyable and Kloy covers all the material in a well structured way. In addition to making good progress with the coursework I've been learning a lot about Thailand and finding answers to my many questions. Kloy is very professional, always flexible when it comes to arranging our weekly schedule and most importantly, she makes the lessons good fun" Brendan, London, 2012
"I have just had my final lesson with Suwisa and I would like to compliment her on the excellent lessons and to say I really enjoyed them. Once again many thanks to Eim and Thai Style."

Brian, Preston, 2012
"My teacher (Mook) is a very intelligent and competent young lady. She shows great patience when dealing with me as an older and slightly slower to learn student. This makes the tutorials a pleasant visit and assists me greatly" Donald Hardie (GLASGOW) och aye ! 2012
"Jillie has been very diligent and supportive in her teaching. She has explained everything in detail and I have found the course easy to learn because of her methods and the literature supplied. Jillie has not been afraid to correct me when I am wrong, but has done this by fully explaining the mistake. I have no issues with the training that I am receiving and can fully recommend Jillie to other prospective students. Jillie is very calm, but self-assured and confident and is an excellent asset to Thai Style" John, Southampton, 2012
"My teacher is Khun Gluay, Watford : being in my 60s I was apprehensive about becoming a student again : I needn't have worried because Gluay put me at ease immediately : she adapts her teaching to help me correct my weak areas and build upon my strengths in a way that makes me feel supported, encouraged and intellectually stretched : each lesson is relevant and fun : thanks to Gluay I am making good progress and have become more ambitious in my aims than I would ever have been without her help : I couldn't wish for a better teacher" Alan, Watford, 2012
"I have been having thai lessons for nearly 1 year. I am now making good progress since working with Jiab. Before this I tried a number of language schools in Bangkok without much luck. I have a business in Thailand so it is very important to me to speak and understand Thai. Jiab has a way of explaining how the language works" David, Brighton, 2012
"An excellent teacher. Aww is a patient teacher and has made learning Thai a lot easier than I could have imagined. Aww is enthusiastic about teaching and this makes the lessons enjoyable. Be warned, Aww will set extra homework but this really does help. I would strongly recommend" James, Hornchurch, 2012
"I have really enjoyed my lessons with Leela. She is a lovely lady and a good teacher. I booked 30 hours of lessons and have not regretted it for one moment. I am not the greatest language student. I have never had a language "aptitude" and have found the course difficult. I would not have persevered if Leela had not been such a great help. She has been patient, encouraging, helpful beyond the requirements of the lessons. I believe we are becoming friends. I would be happy to recommend Leela to any potential student" Ian, Enfield, 2012
"I have been very impressed by Kruu Ladda and her style of teaching. She is very good at listening to my aims and styling the lesson to make those aims achievable. Her attention to detail is excellent – she brought sheets with Thai words on to the last lesson which I found really useful and are helping me remember the vocabulary. She is also very good at going through the Thai-style work books and answering any questions I have. She is clearly a very accomplished teacher who can pitch her lesson to the ability of the pupil. I am really enjoying my lessons and looking forwards to the next one !" Caroline, Clapham, 2012
"Very patient and knowledgeable teacher. Made the lessons very interesting and would recommend to anyone that wants to learn thai" Ian, Preston, 2012
"My teacher Cookie is brilliant, she has the patience of a saint, which she needs with someone of my age,i am a bit slow on the uptake but she has not lost her cool with me yet. Cookie makes our sessions fun and enjoyable and caters to my needs. I have been to Thailand twice since she began teaching me and she spent alot of time going over phrases and sentences that i needed to travel. Dont know if i should say this but we haven't always stuck to the booklet but she has taught me what i wanted to know and to me that is more important. Our lessons are fun and we giggle alot and i am not under any pressure and i think that method helps me. We also spend time talking about Thai culture and i have learnt much much more than just The Thai language." Brian, Christchurch, 2012
"I'm very happy with Ae as my teacher. I have always found foreign languages difficult so I'm grateful for her patience and encouragement."

Mark, London, 2011
"I am enjoying my lessons with Pear. I think I am getting more and more out the lessons as we go along. At first I was a little self-conscious and shy but I am now a little more forthright and ask loads of questions" Terry, Bristol, 2011
"Our teacher, Oh is excellent. We have our weekly lesson and also natter about Thai culture, Thailand, Thai food and all things Thai. She is knowledable, well travelled, witty and Stuart and myself enjoy our lessons greatly. Ou also comes from Chiang Rai where I have my house in Thailand so she is very well matched to me" Len, Cardiff, 2011
"We found Li to be an excellent teacher, she was very personable and had a good sense of humour. Her method of teaching the material was fun and easy to understand. She is a credit to Thai Style. Highly recommended! Thanks" Jayne, Leigh, 2011
"I am very happy with my teacher and her delivery of the course materials. Any questions I have are always answered well and delivered in a way I can understand if at first I am struggling. I would recommend Anne's teaching methods to anyone who was looking to learn Thai. Khob Khun Krab (Anne)" Adam, Birmingham, 2011
"I love the lessons the only problem if you call it a problem is Anne (my teacher) is so friendly that I find that I am being taught by a friend rather than a teacher – but I wouldn't want it to be any other way now ^_^ she is always professional in her teaching style but funny at the same time. The way the lessons are structered is excellent BUT I find because I only have 1 lesson per week for just over 1 hour that the pace is sometimes a little quick and maybe it would be better for me to repeat the same lesson twice before moving onto the next section. But that is a criticism of me and my learning speed rather than Anne" Duncan, Birmingham, 2011
"I would like to say i have received three lessons from kathy and find her professional,curtious and very expert at teaching thai she makes every lesson enjoyable and interesting,makes learning thai a pleasure i always feel welcome and she always has time for me, explaining all the time making thai easy,i would recommend lessons with kathy to every one, may i also say how very good this site is for all you need to know about thailand 10/10 for thai style wish you all the best for the future,chorb kun kraup" David, Newcastle, 2011
"Khun Mee is an excellent teacher. His lessons are well prepared and he makes good use of the written materials. Mee also brings additional materials to challenge me. He is very encouraging and he has given me much confidence to speak Thai. He is clear about the objectives of each lesson, but flexible in how the lesson develops. He effectvely links each lesson to the next so the course makes sense. Mee has given me a real enjoyment of the Thai language and I would recommend him to any student" Sue, Leeds, 2011
"Very good lesson, will be going on regular basis. Friendly and relaxed atmosphere" Stephen, Chester, 2011
"My wife and I have been having Thai lessons with Angela now for a few weeks after eventually finding some one to teach us. We have a two hour private lessons in her house once a week which we find very comfortable and relaxed as it is just the three of us. Angela is a very good structured teacher who makes you feel very welcome and will structure the lessons around your learning requirements. She plans the lesson out for the evening and gives you hand outs of the lesson prior to the start. I would strongly recommend Angela to anybody wishing to learn Thai as it is not an easy language to learn and private lessons with a Thai person will help you along far more than a CD or phrase book. She even cooks a Thai meal for us on occasions! AAA+++ Teacher" Amanda, Chester, 2011
"Anne is an excellent Thai language teacher. I strongly recommend her. I have been learning Thai with Anne over the past few weeks and she has really helped me with my tones and pronunciation" 

David, Birmingham, 2010
"I have learnt alot in such a short space of time whilst also having fun and learning about thai culture at the same time. Jiab is easy going and flexible and always helps me when i misunderstand something. The lessons are definitly something I look forward to in the week" 

 Isabelle, Brighton, 2010
"Jiab – Finally back online. Really like the website and the new student area is superb. Very professional and easy to use" Chris, Brighton, 2010
"Jiab has an excellent training method and I am very pleased with the learning thus far. There is clear structure to the courses and I would recommend Jiab to anybody wanting to learn Thai properly" Chris, Brighton, 2010
"Jiab is easy mannered, very hard working, able and patient. Jiabs degree in English stands her in good stead and gives her a knowlege of English grammar that would put most to shame. I have been having Thai lessons weekly for 15 months and feel I am making steady progress. The lessons are excellent value" Michael, Brighton, 2010
"Would recommend to anybody" Barry, Brighton, 2010
"Very easy to communicate with as a teacher and I never feel that lack of patience is an issue, the patience of a saint more like! Audio files are fantastically scarily clear and emailed immediately" Tina, Brighton, 2010