Kids Learn Thai
Private Thai Language Tuition at Home
Thai language classes for children. We teach children in private after school classes focusing on speaking, reading and writing skills as well as assisting with school homework tasks.
Age related learning materials fare provided for extra curricular activities beyond normal schooling. Our team of native Thai teachers help your child to learn step by step in a safe and comfortable environment and we are here to support your teacher and your children throughout their learning experience.

✓

 3 to 10 years old


✓

Fun and intuitive learning materials


✓

Native Thai teachers


✓

Private tuition at your home

What do you get? We have a huge range of learning materials available for all ages and abilities. Depending on your child's level and aims we will ensure your teacher has the resources they need to provide effective and fun classes.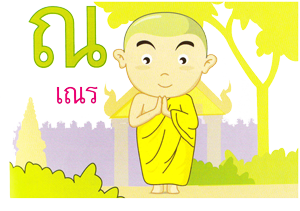 Learning Materials: The learning materials we provide will suit your child's age, gender, ability and progressivly build up knowledge with fun games and creativity. A maximum of 10 books will be provided focusing on different subjects. We send 2-3 books at a time and your teacher will advise on the progress and direction so we can send further materials to suit each child as they progress.
Fees
Registration fees are paid when you first sign up. Tuition fees are then paid directly to your teacher for as many hours as you need. The registration fee provides access to the learning materials, teachers and support services.
1. Registration Fees
For Lifetime Access to; Learning Materials, Trained Teachers & Support Services (one off payment to Thai Style)
- 1 student: 3,900 THB
- 2 students : 3,400 THB per person
- 3 students : 2,933 THB per person
- 4 students : 2,500 THB per person
Note : The above discounts are provided when you register at the same time with a friend. If you register together, you will get the discounted registration and can attend private classes (1:1) or private group classes.
2. Tuition Fees
Tuition fees are based on the teachers location because living expenses and wages differ from country to country.
After registration, tuition fees are paid directly to your teacher. Unlike most other schools, we do not take any commission out of teacher tuition fees, providing you more flexible and affordable classes.
3. Travel Expenses
The cost for a teacher to travel to your location will depend on many factors; distance, mode of transport, frequency of lessons and peak travel times need to be taken into account. You can discuss a reasonable travel expense directly with your teacher after registration.
For example, the average cost for travel during rush hour in Bangkok may be between 50 - 150 THB. Other locations may vary in cost. Please enquire if you would like a quote for travel expenses before you register.
4. Workbooks
Postage - Workbooks are dispatched from our Bangkok or UK offices. Domestic postage in Thailand and the UK is free. International postage outside Thailand or the UK will cost 1,000 THB per order.
Teacher Locations
Get Access to Hundreds of Trained Thai Language Teachers
Set your country to view teacher profiles in your local area 
Register online and we will send you teacher contact details and age appropriate learning materials. If you have any questions about our services or how we can help please contact us.